Who has never dreamed of being able to shop in the city, have a coffee on a terrace, all without taking his car? In Morges, this is possible since a large number of shops are located in the Grand'Rue and Rue Louis de Savoie.
You will find all kinds of shops such as grocery stores, organic stores, clothing stores, souvenir stores, trinkets or even bookstores and countless jewellery stores. On Wednesday and Saturday, enjoy the traditionnal market to buy all kind of local products.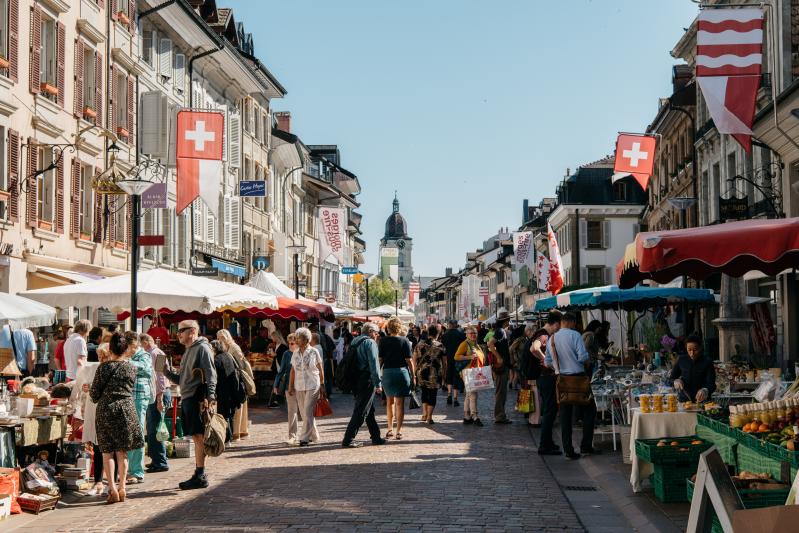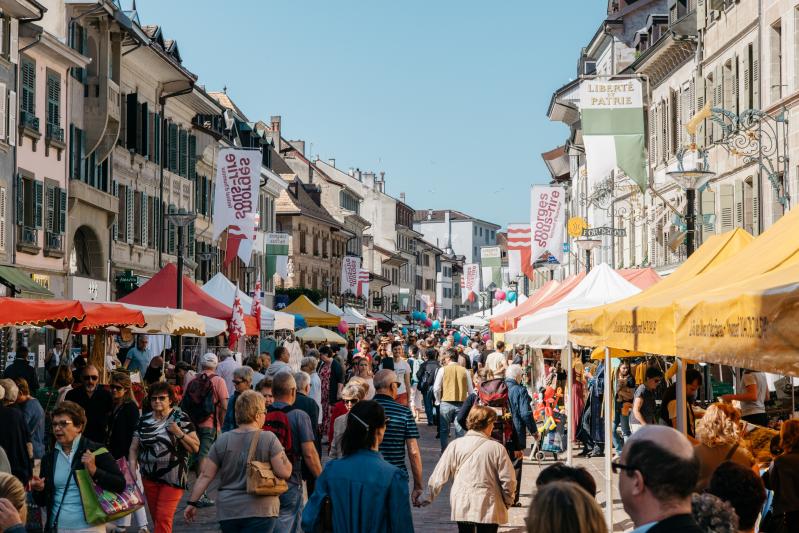 The Rue Louis-de-Savoie is one of the most popular thoroughfares and shopping streets for Morges' residents and visitors. It is characterized by a varied offer with large and small shops. From art and design to souvenirs, bakeries and cafés, clothes, fabrics, modelling, tobacco, you will find everything. If you are in the pedestrian area of the Grand Rue or along Morges' quays, this street is just around the corner and a little detour is always worthwhile.

The shopkeepers in the street have formed an organisation "l'Association des commerçants de la Rue Louis-de-Savoie" in order to regularly exchange information, to coordinate joint activities and thus, among other things, to preserve the life of small shops from extinction due to online shopping and international brands. During major events, such as the large autumn and spring markets, the street may be closed to traffic and invites you to stroll.
Another major business association in Morges: the COOR or "Coordination de l'économie et du commerce de Morges", brings shopkeepers together and organizes many events in town such as certain end-of-year evenings and the living nativity scene around Christmas time.

With some 170 members, the COOR plays the role of respondent towards the local authorities. In this sense, the COOR is a force for action to attract and retain consumers by supporting commercial activity. It is also a force for proposals for a better tailoring of the commercial environment. It represents and defends the interests of its members.

Do you enjoy shopping? Discover all the shops in these pedestrian streets, the craftspeople and shopkeepers will be happy to open their doors and will assist you with pleasure.
You can also find a selection of the most beautiful terraces of the summer to enjoy a meal during your day. In case of bad weather, take advantage of the many restaurants to satisfy yourself.
For a little gourmet break, the Conffierie Boillat, Fornerod, Fleur de Pains or the Locatelli bakery will surely satisfy you!