The region of Morges is located between Geneva and Lausanne on the shores of Lake Geneva.
Accessible by train, bus and car from Geneva airport, German-speaking Switzerland and by boat from neighbouring France.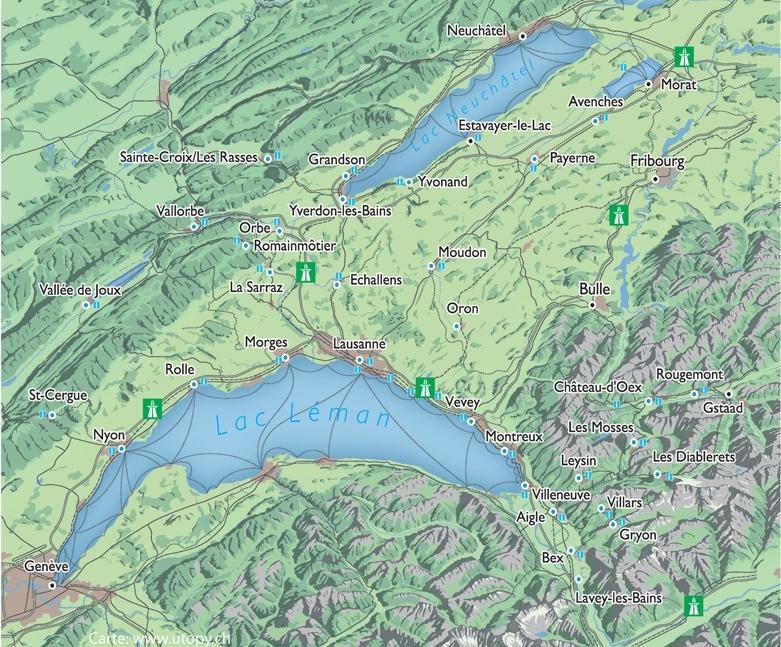 © www.utopy.ch
Calculate your itinerary at regional, national and international level on the Morges, Bière, Cossonay transport site
www.mbc.ch
Morges and its region are sensitive to the protection of the environment and encourage you to use public transport.
By train
Morges and its region are reachable by the main European railway lines which stop at Lausanne, Geneva or even Basel.
The TGV Lyria joins Lausanne from Paris (Lausanne-Morges> 10min), www.tgv-lyria.com
The TGV Sud-Est joins Geneva from Montpellier or Marseille (Geneva-Morges> 30min) www.tgv.com
ICE links Hamburg, Berlin or Frankfurt to Basel (Basel-Morges> 2h15min) www.bahn.com
National and international trains:
www.cff.ch
Regional trains:
www.mbc.ch
Regional Pass:
www.mob.ch

Buy your tickets, for your trips in Switzerland by clicking here !

By car
Morges is served by the A1 motorway which connects Austria with France via St-Margrethen, Zürich, Bern, Lausanne and Geneva; these 407 km offer a glimpse of the Swiss plateau. Morges is also served by the Route du Lac.
From Geneva-airport to Morges, the journey by car takes about 40 minutes. Built in 1964, this 65 km-long section has 9 entrances, two rest areas and a road stop at Bursins.
In Switzerland, the pass gives you the right to utilise the motorways. Available for CHF 40.-, it is valid from 1 December of the previous year and until 31 January of the following year and is purchased at motorway customs, post offices or petrol stations and garages.
In Morges, it is possible to pay for parking using the "Parkingpay" application. Once parked, simply open the application to start the procedure. It should be noted that once back in his vehicle, it is enough to stop the procedure to pay only for the time actually used. Payment is made without cash.
PARKING PAY
MAP OF PARKING
Taxi
Taxis are usually parked in front of Morges station but are available anywhere by telephone.
Taxis Direct Morges St-Prex Sàrl
Passage de la Voûte
1110 Morges
Contact:
Tél.: 0800 742 742
From abroad: +41( 0) 21 801 62 62
Email: infotaxisdirect@hispeed.ch
Website: www.taxis-directs.ch

By plane
You can reach Morges from all Swiss international airports.
It takes around 40 minutes from Geneva Cointrin airport, 1h30 from Bern-Belp airport and 2h30 from Zürich and Basel-Mulhouse airports.
BY BUS
Transports de la région Morges-Bière-Cossonay (MBC):
MBC transports operate the urban (TPM) and regional (MBC) bus networks.
Tel: +41 (0)21 811 43 43
Fax: +41 (0)21 811 43 44
E-mail:
info@mbc.ch
Website:
www.mbc.ch
CarPostal:
Tel: 0848 40 20 40
Fax: +41 (0)58 667 33 99
E-mail:
ouest@carpostal.ch
Website:
www.carpostal.ch
BY BOAT
In spring and autumn you have the possibility to reach Morges by boat from Yvoire (about 1h15). In summer, a connection is possible from Thonon (about 25 minutes) and Yvoire.
CGN SCHEDULE